Your ads will be inserted here by
Easy Plugin for AdSense.
Please go to the plugin admin page to
Paste your ad code OR
Suppress this ad slot.
The people of Humboldt can be proud of their new city entrance, it is in the shape of a bluetooth earpiece, The monument appears to be in the shape of an earpiece sat up-wards, it's a long leap to see it from the road (see image) but it definitely resembles a bluetooth earpiece.
Last week, the South Entry Project study group unveiled its latest plans for improving user experience for travelers entering our fair city. One of the most visually notable components of the facelift proposed by Redding-based engineering group Green Dot Transportation Solutions is a spiral concrete sculpture thingamabob to be constructed just south of the Herrick Avenue overpass (see below).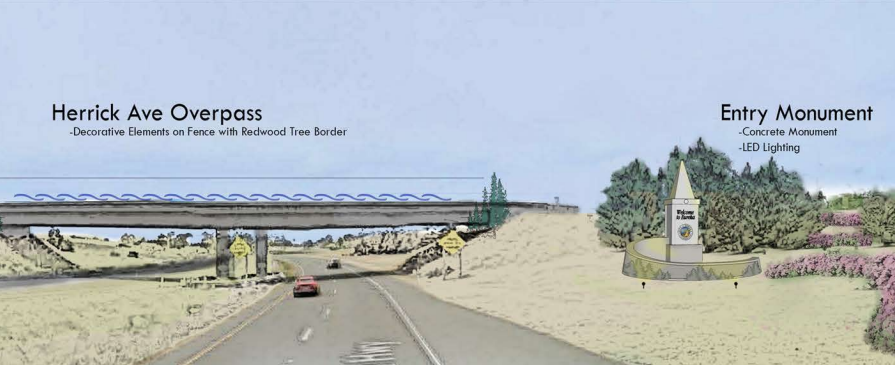 What does that thing look like? LoCO asked itself. Then it hit us. It looks like a Bluetooth earpiece, of course! Amirite? Maybe we're promoting safe driving, here? LoCO no know.
Anyway, the sculpture, as well as other less earpiece-ish aspects of the South Entry Project — trees, medians, etc. — are the result of months of meetings wherein community feedback was sought. Since LoCO knows our readers prefer things to be on the interwebs, we will direct your discerning eyeballs to the "Preferred Alternative" page of the Eureka South Entry website where you can scope out some visuals of planned enhancements.
According to the North Coast Journal, Green Dot still needs to submit the plan to Caltrans for approval. After that, the Eureka City Council can choose to vote this glorious tribute to safe, hands-free devices into reality.
Addendum: Many LoCO commenters have expressed indignation that the city should be spending money on this type of project when more serious issues exist. This is an entirely understandable sentiment, though it should be noted that, so far, the city has only paid for a study, the majority of which ($45,000 of the $75,000 price tag) was funded by a grant from the California Transportation Commission.
City Engineer Charles Roecklein said the city will pursue more grant funding to finance the construction of the project itself, assuming it gets that far. And he's optimistic about finding those funds. "It's like the mayor said, somebody'sgonna get those grant funds," Roecklein said. "There's grant money for this kind of project."
Source -Â http://lostcoastoutpost.com/2015/apr/27/look-eurekas-tribute-bluetooth-earpiece-could-soon/